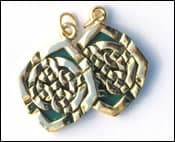 Wear the Celtic Love Knot around your neck, close to your heart, and you may experience a tremendous enhancement of your personal magnetism. Your ability to attract the opposite sex could increase dramatically. Your capacity for passion may intensify to undreamed-of heights.
When you find the person destined to be your soulmate, wear one and place the other around his or her neck to bind your love. If a lover has gone from your life, wear one amulet and place the other on his or her picture. This may rekindle your memory in their heart. If you are alone, searching for your perfect mate, wear one charm around your neck and hang the other over your front door. Soon you could be welcoming the love of your life.
Buy One, Get One Free!
Each order for the Celtic Knots includes two for the price of one.
Testimonials From Our Clients